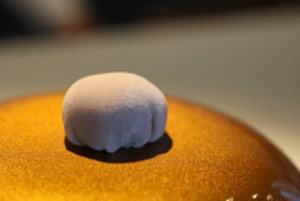 CHERRY MOCHI
A subtle Japanese-inspired dessert made from glutinous rice dough and creamed cherries. A delicious treat that brings us all the flavour of early summer.
Glutinous rice dough:
115g glutinous rice flour
200ml water
100g cornflour
40g icing sugar
Preparation:
Mix all the ingredients in a microwave-suitable bowl with a lid and microwave at medium-high power. It is important to stir the mixture at regular breaks: 1 minute + 1 minute + 30 sec + 30 sec + 30 sec, until you have the texture of a dough..
Cherry and cream cheese crème pâtissière:
300ml milk
200g Morello cherries
100ml cream
100g cream cheese
6 egg yolks
100g sugar
50g cornflour
Preparation:
In a bowl, mix the ingredients in the following order: the sugar, the cornflour and the egg yolks. Meanwhile, bring the milk to the boil with the cream, cherries and cream cheese. Once it has come to the boil, pour very slowly into the bowl, stirring constantly. Pour the resulting mixture into a clean pan and cook over a low heat until it reaches the texture of a fairly thick crème pâtissière.
Grupo La Sucursal