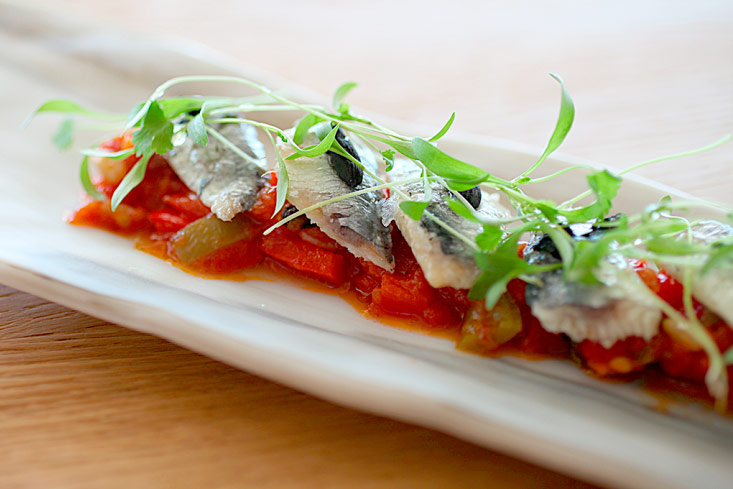 TITAINA WITH ANCHOVIES AND BLACK GARLIC 
The Titaina is a typical dish of the Cabanyal district that was traditionally made for Lent; today we're serving it on a flatbread made from beer dough.
For the Titaina:
For the Titaina:
250g green peppers
250g red peppers
250g tomatoes
200ml extra-virgin olive oil
300g marinated anchovies
A small ham bone
400g salt
200g sugar ugar
Preparation:
Peel the peppers and tomatoes, remove any seeds and dice finely. Cook the peppers very slowly with the olive oil and ham bone, then add the tomatoes and the sugar. The vegetables should be cooked through but still intact. Drain and season to taste.
For the marinated anchovies: clean the anchovies and plunge them in iced water for a few minutes. Dry them and marinade in a mixture of 50% sugar and 50% coarse salt. After about 30 minutes, rinse with cold water, slice off the fillets and cover them with a mild olive oil.
To serve, make an emulsion of black garlic and olive oil and a pine-nut lactone (toasted pine-nuts, milk, olive oil and salt).
Beer-dough flatbread:
500g strong wheat flour
150ml beer
150ml extra-virgin olive oil
10g salt
Preheat the oven to 180ºC. Mix all the ingredients together and leave to rest for 15 minutes. Spread the dough out on a baking tray to a layer of about 3mm and bake for 15 minutes.
To serve, arrange the vegetables on the flatbread, top with the anchovies, and decorate with the sauces, toasted pine-nuts and coriander leaves.
Grupo La Sucursal